Welcome to
Tyler Event Lighting
Welcome to Tyler Event Lighting, your premier source for exceptional event lighting rentals in East Texas. Whether you're hosting a wedding, celebrating a graduation, or organizing a special event, our range of rental options is designed to elevate your gathering and make it truly unforgettable.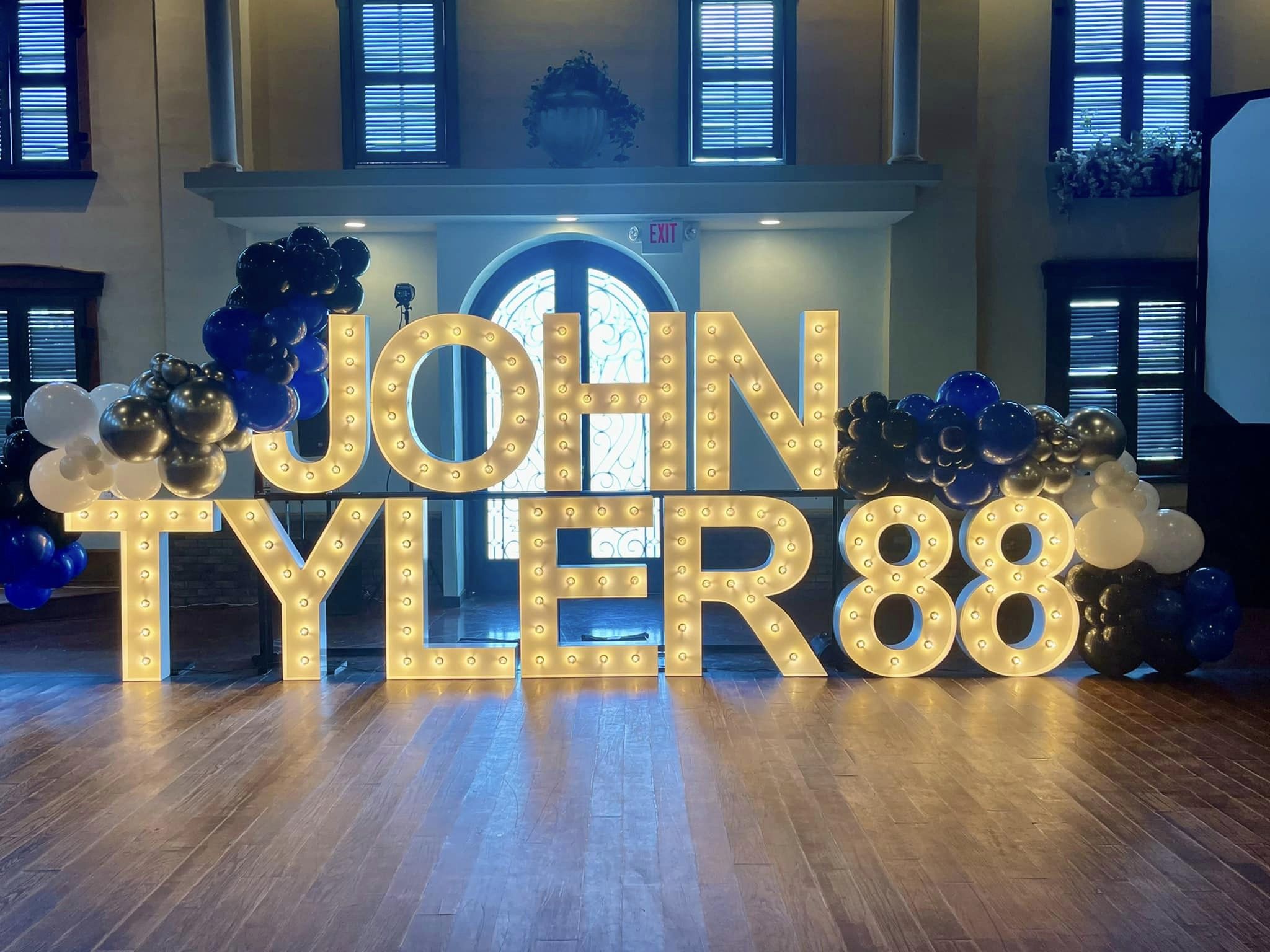 Event Lighting Rentals in Tyler, TX
At Tyler Event Lighting, we specialize in creating unforgettable moments through the transformative power of light. Whether you're planning a wedding, corporate event, or social gathering, our passion for lighting design will bring a touch of magic and sophistication to your occasion. Step into a world of enchantment and let us illuminate your event with brilliance and creativity.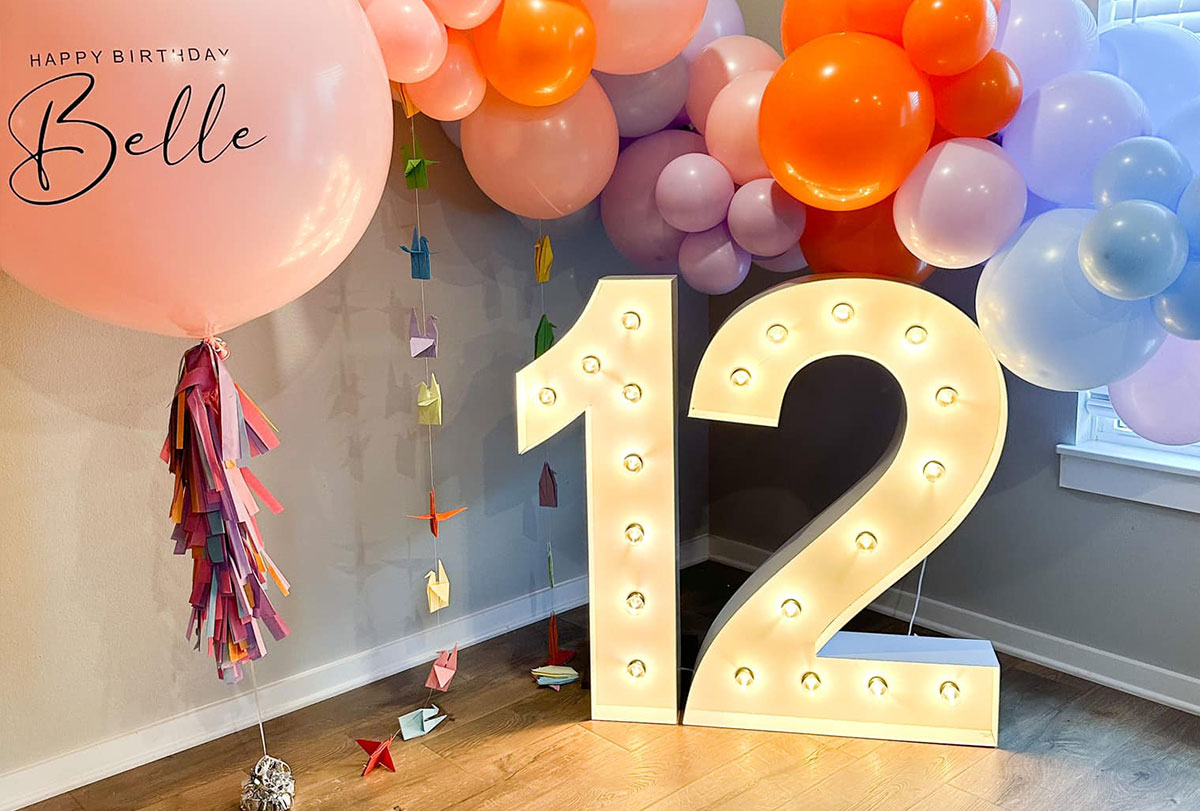 Add a touch of glamour and personalization to your event with our stunning marquee letters. We offer all 26 letters of the alphabet, along with special characters like #, !, &, and ?. Crafted from durable aluminum, our marquee letters are suitable for both indoor and outdoor use, allowing you to create a captivating ambiance wherever your event takes place. Secure your rental by making a 50% deposit and bring your vision to life with these luminous, customizable elements.
Get a free estimate today!
Frequently Asked Questions
How long can I rent your products for?
Our standard rental policy is for up to 1 day rentals, but can extend them for multiple days for an additional discounted daily rate.
Can I pick up products instead of getting them delivered?
No, pickup up is not available.
Do your products stand on their own?
Yes and are also stackable.
Can I use your products outside?
Yes, they can be used outside in normal weather conditions. Customer must provide a backup indoor location where products can be moved in case of inclement weather.
How many outlets are needed to power the lights?
Just one outlet is needed, as the lights plug into each other and then into an outlet.
Do the light bulbs get hot after continuous use?
No, the light bulbs do not get hot, as they are LED.
What happens if one of the lightbulbs burns out?
Our lightbulbs are all tested prior to installation to ensure quality, but if one does burn out, we always provide additional bulbs and show the customer how to replace them if needed.
Can I customize the color of your products or lightbulbs?
Yes, we can use colored lightbulbs.
Do you offer products in sizes other than 42 inches?
Currently, we only carry 42 inch letters and numbers.
Can I buy your products?
Right now, we only offer rentals for our products. We will try our best to accommodate special purchasing requests.
How in advance should I book my rentals?
Bookings are subject to product availability. Once you decided your date, reserve your rental items to secure them. A 50% non-refundable deposit is required to book.
Can I change items on my order?
Yes, but I need at least 3-4 weeks if not in stock.
When is the final balance due?
At Delivery/Pickup the week of the event. Usually around 3-5 days prior.
Besides the rental price, what other fees are there to rent?
What happens if my event is outdoors and the weather is bad?
Sometimes, weather is unpredictable. We recommend you always have an indoor or covered back-up plan for your outdoor event. All products are weather proof.
Where do we deliver?
Our warehouse is located in Tyler, TX and we deliver to surrounding areas in East Texas.
What payments methods do you accept?
Payment is accepted through the invoice system with major credit and debit cards (VISA, MASTERCARD, AMEX, DISCOVER) and ACH. Personal Checks are also accepted.
Do you refund money after the contract was signed and deposit paid ?
After the contract was signed and the deposit paid, we only offer the option to forfeit the deposit.
How does the pricing work?
Prices quoted are for one day event. For multi-day rentals, we can discuss pricing options.
Ready to take your event to the next level? Contact us today to get a free quote tailored to your specific needs and preferences. Our friendly team of lighting experts is eager to discuss your vision, provide personalized recommendations, and guide you in selecting the perfect rentals for your occasion. Together, let's illuminate your event and create memories that will shine brightly for years to come.